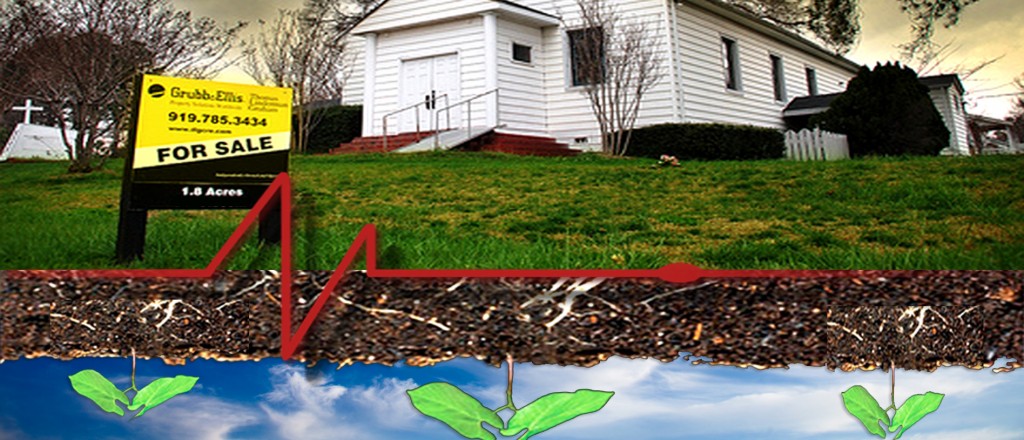 With the ever growing trend of Church planting, we have lost sight of the reality that too many churches are dying. We try to pretend that churches are not closing down everyday by creating hype with campaigns to rally around the numbers of new churches being started.
But if one church opens while another closes, what's the benefit towards the Kingdom? The math simply does not add up. If a church is opened and has five people saved in the first service and 11 baptized the following week, but we close the doors of two other churches that same month, and this translates in an entire frustrated generation of youth exiting the church into a secular world of drugs and alcohol, then the Kingdom economics is lacking.
When there is a birth, we rejoice. When there is a death we cry. Death is damaging, painful and entangles us in a multifaceted web of emotions and responses. Sadly Christian churches today are dying for six major reasons:
The Bible has been abandoned: "Feel-good" preaching replaces fundamental Biblical principals, morals and truths.
We listen to too a multitude of church experts instead of hearing from one Divine voice.
We treat the Church as a social club paying our 10% membership dues.
There is more emphasis on evangelizing social media than the evangelizing the lost.
We like the church box and the comfort of the walls and forget about the hurt and dying world beyond.
It's at times easier to close a church down to avoid dealing with the real problems
Death is so damaging to the entire body of believers. Should we not focus on church care rather than closing, and reevaluate the effectiveness of putting more money into opening new churches. What is it that motivates us to seek after church planting versus church rehabilitation?
Money is in church planting vs. debt is in church maintenance.
The honeymoon period of a new church is much more glamorous vs. the trials of a struggling church.
The problems of church planting are limited compared to the problems of dying church.
We all want to rejoice in a birth instead of caring for the sick or morning the dead.
A grand opening celebration is more appealing than a long and strenuous rehab process.
Positive reinforcement and recognition comes with church planting. Negative reinforcement, and at times rejection, is associated with church care and problem solving.
If you work with people you will have problems and the more people you have the more problems you will have. And the more time you have these people, the more likely you are to have bigger challenges to overcome. But this is no reason to give up and avoid the hard times. Let us not let our existing churches dye while we have our eyes on starting new ones. It is when we embrace unification and restoration that bones come together, flesh develops out of past nothingness, skin covers the flesh out of former defeats, breath enters the bodies to all replace past failures and unforgiveness, and a vast army stands up stronger than ever. What some see as a dying church, Christ sees as His resurrected and indestructible army!