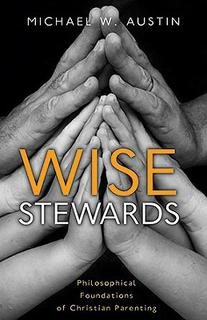 Review by Kathryn N. Donev, LPS/MHSP, NBCC
Wise Stewards begins with the philosophical question "What gives meaning, purpose, and value in life?" But don't let the philosophical focus of this book scare you away. One of the author's main accomplishments in the text is his ability to present this concept in a manner that is more of a challenge to our way of thinking than to our intellectual ability. This unspoken challenge is for parents to, regardless if biological or not, obtain a personal theory of a more suitable Godly parenting style rather than relying on unstructured notions of parenting. Austin does not simply discuss key virtues for the Christian family in an abstract way, but intends for the reader to integrate the ideas into a comprehensive framework that can then be used as a resource to enhance their parenting skills. This goal is apparent in every chapter that concludes with a section of questions for reflection and application.
Austin makes sure to clarify early on that he believes in moral realism. Additionally, he begins with a disclaimer that his suggestions are not to replace scripture. I appreciated both of these points. In today's post modern society, this is a rare attribute in publications related to parenting, which should be valued. The author invites the reader to join him on a journey into becoming a better parent, a journey that will be guided by Biblical truths. If there was one sentence that could sum up the entire book it would be the following: "I seek to develop a sound understanding of the parent-child relationship by combining biblical, theological and philosophical reflections in order to construct an everyday ethic of parenthood that is distinctly Christian." Finally we have someone who is not afraid to take a strong stand on Christian values. The way Austin opens himself at the onset of this undertaking is inviting and encourages the reader to maintain an open mind to the views that follow.
Wise Stewards has a distinctly philosophical approach to parenting, an approach that may turn away some readers but let me ask the question, should we not all strive to be philosophers and lovers of wisdom? Why does philosophy threaten us so much? Why do we tend to think that remaining in the dark is easier than facing the truth? This book sheds light on the often neglected area of parenting. Unfortunately it has come to the point that parents have to be reminded of their biblical roles. It is not a suggestion to raise your child up in the Lord but a mandate. Austin does a great job of reminding us this by addressing the need for Christian ethics for parents and insists that wise parents must view themselves as stewards of their children. He addresses basic values every parent should already be teaching their children; however after reading about Austin's thoughts related to humility and frugality, one can't help but think new thoughts about these basic values and how they relate to parenting. One's view of a parent and parenthood will definitely change after reading this book. We cannot afford to be unwise any longer.
The call at the end of book is extremely thought provoking. Wise Stewards challenges parents to be exactly that, wise stewards, and calls them to restore the home to be the center for spiritual life and a "sacred place" for worship and study. It is sad we have to be taught what has become a foreign concept that for my generation used to be a given. I remember family meals would be together, around a dinner table and would begin with prayer and end with having to ask to be excused. In the modern family of today's society most do not even have a dinner table, or "the altar" as Austin describes. This concept is no longer the center of family values. The home is no longer the center for learning or spiritual development. Austin makes a compelling case that parents who are acting as wise stewards must not bow to societal pressures but must live up to Godly standards.
Wise Stewards is more than just a great read for all levels of readers; it is a great tool for parents of all parenting styles. Yet it is not good enough to read this book and leave it on your shelf to show how great of a parent you are, you must be ready and willing to apply these ethical principles of forgiveness, patience, compassion and so forth. You must be a parent willing to embrace a Godly form of discipline. If used correctly, Wise Stewards could change a family forever in which the earthly home is restored to that place of shalom providing a reflection of our heavenly home.